2010: Neil Young Year in Review - A Tale of 2 Neils
Neil Young Honored As MusiCares Person Of The Year
Neil Young Wins First-Ever Grammy Award for Archives Box
Neil Young @ Vancouver Olympics Closing Ceremony
Hope For Haiti Telethon
Final Tonight Show With Conan O'Brien
Larry "L.A." Johnson: 1947 - 2010
Producer Daniel Lanois Seriously Injured in Motorcycle Accident
Remembering Danny Whitten: 1943 - 1972
Dennis Hopper: 1936 - 2010
Ben "Long Grain" Keith: 1937 - 2010
Fire at Neil Young's Warehouse Damages LincVolt
Carl: 1996 - 2010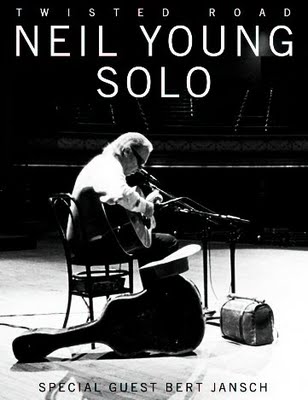 Neil Young's "Twisted Road" Concert Tour Hits The Road
Neil Young at Constitution Hall


Photo by Tracy Woodward/TWP
Expecting to See Neil Young (or Man Without A Net)-
Thrasher's Wheat Concert Tour Review
Neil Young - Worcester, MA, May 21, 2010
Photo by Steve Babineau/Sports Action Images
Inside The Making of Neil Young's Greendale Graphic Novel
Greendale: Fans Favorite Neil Young Studio Album of 21st Century
The Vista and The Muse:
Neil Young Takes on Attackers of Thrasher's Wheat



Neil Young's Gulf Coast 2010 Tour Poster


via Neil Dancer on Facebook
Le Noise by Neil Young
Neil Young and Producer Daniel Lanois with Le Noise crew
The Thrasher's Wheat Review of Neil Young's "Le Noise"
Neil Young @ Mobile, Alabama, September 26, 2010
5th Anniversary of Release "Time Fades Away" Petition
Trunk Show Film Premieres
Rare Neil Young Photos & Stories: Broken Arrow Magazine
Laying to Rest the "Feud Myth" of Ronnie & Neil

Crazy Horse
Ralph Molina, Billy Talbot & Frank Sampedro
MusiCares Honors Neil Young - Los Angeles, CA - 1/29/10
Photo by Joni Milken-Noah
Bruce Springsteen and Neil Young cover "Whip My Hair"
Jimmy Fallon's Impressions Go Massively Viral
Farm Aid 2010 - Milwaukee, WI, 10/2/10
University of California, San Francisco Children's Hospital Benefit, 12/8/10
Buffalo Springfield - 10/23/10


Photo gallery by Nan Philpot | Facebook
The Triumphant Reunion of The Buffalo Springfield, Pearl Jam and Neil Young @ 2010 Bridge School Benefit Concerts
Setlist: Buffalo Springfield - 10/23/10
"Rockin' in the Free World" Encore Jam
Buffalo Springfield, Pearl Jam, and Neil Young's Friends
October 24, 2010
Photo by Thrashette
Buffalo Springfield - circa 1967
Stephen Stills, Neil Young, Richie Furay, Dewey Martin, & Bruce Palmer
The Significance of The Buffalo Springfield's Historic Reunion
The Buffalo Springfield, v. 2010
Joe Vitale, Stephen Stills, Richie Furay, Neil Young and Rick Rosas
Photo by Eleanor Stills
Neil & Pegi
With regard to the year 2010 -- for Neil Young -- it was the best of times and the worst of times.
The losses came fast and hard. Larry "L.A." Johnson... gone. Ben "Long Grain" Keith ... gone. Daniel Lanois... seriously injured in a motorcycle crash. The beloved and cherished LincVolt ... severely damaged in a fire. Even Neil's longtime companion -- his dog Carl ... passed on to the great doghouse in the sky.
Just when it seemed like things couldn't get worse for Neil, they did. Our hearts go out to him and Pegi, his crew, his family and friends.
And yet. 2010 was also a year of spectacular achievements and recognition for Neil:
Honored As MusiCares Person Of The Year
Performed at Vancouver Olympics Closing Ceremonies
Won his First Grammy Award
Performed on the Final Tonight Show With Conan O'Brien
Played on the Twisted Road/Le Noise/Gigs for the Gulf Concert Tour
Released the critically acclaimed "Le Noise"
Hailed at the Triumphant Reunion of The Buffalo Springfield @ 2010 Bridge School Benefit Concerts
The man's resilience in the face of adversity and loss is both amazing and inspiring. Earlier -- when
reviewing the Buffalo Springfield reunion
-- we pondered the age old question of whether Neil is burning out or fading away? We argued that he is neither. Neil Young is the quintessential survivor.
As an example ... from
Lincvolt - Repowering the American Dream - Blog
:
This is a long story about perseverance in the face of adversity.

As Lincvolt rises Phoenix-like from the ashes, she still lives.

The spirit of Lincvolt will not be stopped.

The reason for Lincvolt's existence is still right in front of us and even more important with each passing day. We continue to compromise the earth's fragile defenses by building cars that are spewing Greenhouse gases.

Lincvolt will be the same car with new configuration of components, re-invigorated for the long road ahead.
The editor of Broken Arrow magazine (published by the
Neil Young Appreciation Society
) Scott Sandie summed it best when reflecting on the year's losses and LincVolt's fire damage:
"Far from being dismayed by this setback, Neil has already stated his intention to repair and reconstruct the car and continue with the project.

Neil Young's positivity in the face of personal loss and continued setbacks is an inspiration for us all.

Nothing seems to get him down for long or stop him doing what he wants to do."
L.A., Long Grain, LincVolt & Carl .... Long May You All Run.
Here's to a less eventful 2011.
peace & love,
thrasher & thrashette
---