Ben Keith: 1937 - 2010
Ben Keith: 1937 - 2010


Bridge Benefit Concert 2008
Photo by Craig Abaya

UPDATE:
From official Neil Young website
N Y Times
:
BEN KEITH



On the full moon, the Thunder moon, the world lost one of the greatest musicians of all time. Ben was 73 years old the night he died on Broken Arrow Ranch in California, his happy home for the last years of his life. Ben played with Patsy Cline, Faron Young, Hawkshaw Hawkins, Ian Tyson and many other music greats. A great American, the quiet giant, he moved gently through the world, with kindness and grace.

My wife Pegi was lucky to share his last performance a few weeks back in San Francisco, where Ben was playing in her band, supporting her and lending his spirit to her every word as she sang her songs for us.

Of course, in Nashville Ben Keith is legendary, one of the last of the original country greats, the man behind the song. No one will ever fill his shoes. He has countless friends and admirers. They all miss him as much as I do. I will miss him every time I look to my side, remembering him, my brother and fellow traveler.

Thankfully, Ben's masterful playing can be seen and heard in two Johnathon Demme pictures: 'Heart of Gold' and 'Trunk Show,' as well as countless great recordings over the last 50 years. We are so fortunate to have these as memories and lasting documents of his greatness and grace. He started out on a homemade steel guitar he fashioned himself from a piece of wood and left over parts. He loved his music and his life and cherished his many friends and soul mates.

He leaves behind his wonderful daughter Heidi, and his grandchildren who he loved so much, DJ, Rachel, James, Meredith, Aubrey, Fletcher and Caroline.

May he rest in Peace.

Neil Young

---



Ben Keith as "Grandpa" in Greendale as filmed by Neil Young - 2002


(Eric Johnson as "Jed", center)
Ben Keith, Neil Young's long time band mate and dear friend, has passed away. Ben was 73.
Ben Keith, was a multi-talented musician who Neil Young first met in Nashville in February 1971 when Neil was recording the multi-platinum LP
Harvest
. Legend has it that Neil asked bassist Tim Drummond if he knew any pedal-steel players in town. Tim contacted Ben, who lived in town and off he went to the studio: "I didn't know who anyone was, so I asked, who's that guy over there?" and was told "that's Neil Young".
"They were already recording [Harvest] at the time," Keith said in the 2005 concert movie
Heart of Gold
. "I set up my steel and kind of snuck in there and started playing and we did five songs before we ever stopped and introduced ourselves."
Speaking to
Uncut.co.uk - News
in March 2009, Keith remembered his first meeting with Young.
"He wanted a steel guitar player and I lived a couple of blocks from the studio. He'd already started the sessions, and I slipped in as quiet as I could and started playing along, and we cut five songs before I really met him. I didn't even know who he was. I'd heard of CSNY, but I didn't know he was doing a solo LP. He seemed like a good guy, as he did music like I do it – spontaneously."
Neil Young often referred to Ben Keith as "Brother Ben".
In an interview with Director Jonathan Demme in
Los Angeles Times
by Randy Lewis, Demme said that Keith died of a heart attack.
"Demme called Keith "an elegant, beautiful dude, and obviously a genius. He could play every instrument. He was literally the bandleader on any of that stuff… Neil has all the confidence in the world, but with Ben on board, there were no limits. Neil has a fair measure of the greatness of his music, but he knew he was even better when Ben was there."
"Ben and I developed the style during those sessions," Young told
The Tennessean
in 2005. "When we did 'Old Man' and talked about what he could play, I said, 'Try to play those single notes and make it sound doubled. Just ride those babies all the way through there, that's a great sound."
BREAKING
- Check back...
From
Ben Keith - Wikipedia, the free encyclopedia
:
Ben Keith is an American pedal steel guitarist, from Bowling Green, Kentucky. He worked as a session musician in Nashville in the late 1950s and 1960s. He is most famous for his work with Neil Young, both in stage shows and on albums such as Harvest, "Journey Through The Past", "Time Fades Away", "On The Beach", Tonight's the Night, "American Stars 'n' Bars", Comes A Time, "Hawks 'n' Doves", "Old Ways", "Freedom",Harvest Moon, "Silver and Gold", Prairie Wind, "Chrome Dreams II", and the live albums "Unplugged" and "Road Rock Vol. 1".

He played the role of "Grandpa Green" in the Neil Young feature length movie Greendale, released on DVD.

He has also worked with Terry Reid, Todd Rundgren, Lonnie Mack, The Band, David Crosby, Graham Nash, Paul Butterfield, J. J. Cale, Linda Ronstadt, Warren Zevon, Ian and Sylvia, Hungry Chuck, Emmylou Harris, Willie Nelson, Waylon Jennings, Anne Murray and Ringo Starr.

He is also known as the producer of Jewel's debut album Pieces of You and as a solo recording artist. He toured with Crosby Stills Nash & Young on their 2006 Freedom of Speech tour.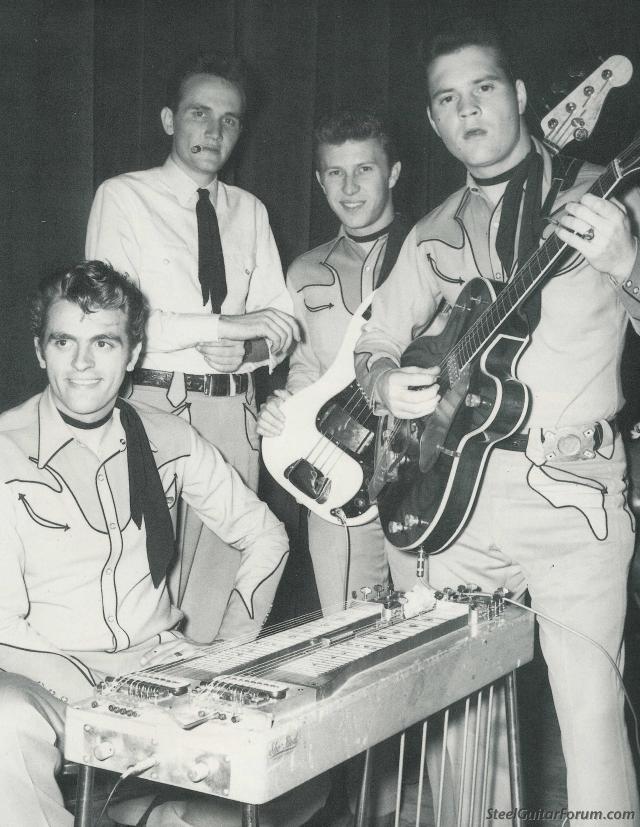 Ben Keith with Faron Young and band

(via Rock Town Hall)
Keith's career dated back to playing on
Patsy Cline
's "I Fall to Pieces."
Rick Rosas & Ben Keith @ Cutting Room, NYC, NY 07-19-2007
Photo by Johnny Marr
Ben Keith, Neil Young's Pedal Steel Guitarist and Collaborator, Dies | American Songwriter
by Davis Inman:
Ben Keith's pedal steel playing, typified on the opening track "Out On The Weekend," was the perfect counterpoint to Young's compositions. Bassist Tim Drummond once compared Keith's playing to the fingers of fog that creep in over San Francisco Bay.
Ben Keith is interviewed by Pauline Stroosnijder for Culttv, outside the Amstel Hotel in Amsterdam, June 2009. Seems like some translation sync issues on interview.
From Ben Keith interview on
Cool Groove
:
"'As a producer, I hope what I bring to an artist is sensitivity,' says Keith. 'And maybe a sense of overview. I've always loved a lot of different kinds of music, and I've seen and heard a lot—I listened to a good bit of R&B in the early days, and I'm sure that influenced me in a big way. And growing up in Kentucky, so close to Nashville, that gave me some country roots. I was also really lucky to get to work with some great producers—Chet Atkins, for example. That's given me a lot to go on, and I don't believe the producer's role has changed all that much over the years. The technology, now that's a different story—that's changed tenfold. Sometimes the most exciting moments come out of the biggest challenges, like on the live tracks on Jewel's album. The place was very small, and it was hard to get a good sound with all the crowd noise and everything. For one song, Jewel came into the studio and overdubbed her last guitar chord, and we blended it in with the live track. Finding the little sweetening touches like that is really satisfying.'



Photo gallery by Tony Stack on Rock Steady Studios of Neil Young in Denver, CO on 4/27/09
UPDATE:
Per Tabloid Daze: Neil acknowledged Ben's death at his Winnipeg concert tonight. Appearing somewhat sombre before the first song of his encore, Old Man, Young said, "This is for Ben Keith. His spirit will live on. The Earth has taken him."
UPDATE:
From
Diane Diekman » Blog Archive » Faron Young and Marty Robbins newsletter — 5 May 2010
:
"When steel player Bennett Keith Schaeufele joined the Nashville musician's union in 1956, the secretary said, "Oh! You're not going to use that name, are you? Why don't you use Ben Keith? People will remember it better." So he became Ben Keith. The following year he signed on as one of Faron Young's Country Deputies, joining Tom Pritchard on upright bass and Odell Martin on guitar. By 1960, the Deputies were Ben, Odell, Darrell McCall, and Roger Miller. Ben left the band in 1963, did demos and session work for awhile, and some producing. My sister and I visited him at his Gallatin home in 2000. By then he had toured for years with Neil Young. He told me he produced CDs for Jewel but didn't mention her debut CD, Pieces of You, sold more than ten million units. It is still one of the best-selling albums of all time by a female artist."
(Thanks Mother Nature on the Run!)
www.youtube.com/watch?v=9H0VaY1EdrI
www.youtube.com/watch?v=GeMLruhAb4A
http://www.youtube.com/watch?v=Jib17tEWtz0&feature=player_embedded
http://www.youtube.com/watch?v=XrPaP5bP5lc
http://www.youtube.com/watch?v=DDHMaWIY7n4

Twitter / Jewel:
"Really sad news- Ben Keith has passed away... He produced my 1st album, & was an amazing steel player. I will miss u Ben."
From
Jewel remembers producer Ben Keith | tennessean.com | The Tennessean
:
For Jewel, though, Keith will always be the man who helmed her breakthrough, Pieces Of You, an album that sold more than 10 million copies.

"I was signed to Atlantic Records, completely ignorant about the music business," Jewel said. "I met with maybe 50 different producers, and a lot of them wanted to change what I did. Ben was the first who made me feel comfortable with who and what I was. He had the mentality of, 'Let the musician be the musician,' and

he believed in me when I didn't know how to believe in myself."



"He was a champion of the song and the songwriter, no matter what," she said. "He was a defender, and he helped give me confidence. He wanted to pay homage to the song, with no over-singing and no over-playing. He produced that album, and so we both hit the frickin' goldmine.

We were dark horses that beat the odds."
Ben Keith in 1969 at Nashville's Music City Recorders
Photo from Billy W. Chernoff, billychernoff.com
UPDATE:
Worldwide condolences for Ben....



Ben, Neil & Pegi


Photo by Ernie Hernandez Jr
-
Rust : Neil Young Messages
-
The Steel Guitar Forum :: View topic - RIP Ben Keith
-
Fender Guitar Forum
-
Bob Dylan - Expecting Rain
-
Pearl Jam - Ten Club Community
-
ROCKS OFF - The Rolling Stones Message Board
-
The Allman Brothers Band :: Where Music Plus Friends Equals Family
-
RIP Ben Keith - The Jayhawks FanPage Board
-
Steve Hoffman Forums - Ben Keith RIP
-
Facebook | Thrasher's Wheat Never Sleeps - Ben Keith: 1937 - 2010
-
Teenage Fanclub • View topic - Ben Keith
-
RatDog.Org • View topic - RIP Ben Keith 1937-2010
-
Ben Keith, RIP - MOJO Message Boards
-
Ben Keith: 1937-2010 - Musikk - VG Nett Debatt
-
- La Rubrique Nécrotopic - (page 176)
-
Velvet Rope Forums: Ben Keith RIP
-
RIFF Fanzine :: Ver tema - Triste noticia: ha fallecido Ben Keith
-
forum.goddeau.com • Bekijk onderwerp - RIP
-
FALLECE BEN KEITH
-
Ben Keith uit band van Neil Young RIP - homerecording.be forum
-
Glorious Noise Boards - View topic - RIP Ben Keith
-
Bonnaroo 2010 - The Official Neil Young For 2011 Thread
-
Doom Forever Forever Doomed • View topic - Ben Keith RIP
-
The Other Place - RIP Ben Keith
-
R.I.P. Ben Keith
-
Musiques [RIP Ben Keith]
-
STANDIN' AT THE CROSSROADS: Ben Keith, Longtime Neil Young's Sideman and Pedal Steel Guitarist, Dies at 73
-
No Expiration - a blog about timeless music: BEN KEITH, 1937-2010
-
Neil Young sideman Ben Keith, dead at 73, played with Bob Dylan in studio and on stage - with audio.
-
Facebook | R.I.P.Ben Keith

Ben Keith & Neil Young
2009-06-19, Tanzbrunnen, Köln, Germany
Photo by Falco
---