NEW CONCERT POSTED: Neil Young - Fox Theatre, Atlanta, May 29, 2010 + Outtakes + Bootleg Update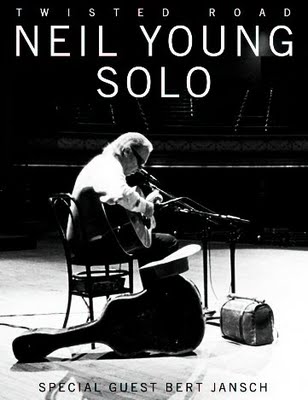 Neil Young's "Twisted Road" 2010 Concert
Opening act: Bert Jansch
Another full concert as been uploaded to Concert Performance Timeline on Neil Young Archives: May 29, 2010 at the Fox Theatre, Atlanta (Thanks Patron Sean N. !)
Here is a Neil Young Concert Reviews - Fox Theatre Atlanta, GA - May 29, 2010 by Annelore Harrell:

And we sat down and listened.

Expecting acoustic, we were instead presented with a fullblown electric concert. After five decades of performing, his voice and playing style are stronger than ever. I have never been to a rock concert before where the audience claps and yells like mad, then abruptly sits down in eager anticipation of the next song.

Once in awhile, someone would break out with a yell, but this was a theater full of Neil Young fans who wanted to hear whatever he wanted to share and that meant being quiet. For the next hour and a half, with an intermission too brief to grab a beer, from his White Falcon Gretsch to the Les Paul "Old Black," he played one guitar after another, did a stint on a funky vintage pump organ and another on a piano sitting stage left.

We sat, listened, stood and clapped and sat again, having no idea of what song he was going to do next. We didn't care. He gifted us with seven new songs that no doubt will become classics. I sat through "Help," "Ohio," and "Cinnamon Girl," and all of the old songs, remembering those times.
Also, see
Neil Young's "Twisted Road" 2010 Concert Tour Reviews
.
Also, here are some new outtakes:
Neil Young's Official Bootleg Series
In other Neil Young release news, The Official Bootleg Series will now be released on October 29 beginning with "Carnegie Hall" disc. On November 5th, five more bootlegs will follow, including the long-awaited album with live recordings with "The Ducks" from the summer of 1977. The releases were previously planned for August and October.
The delays are due to the worldwide vinyl production logjam. See details on NYA.
Thrasher's Wheat Radio 2.0 Podcast - Episode #3 | Hosted by WBKM.org
---
Labels: bootleg, concert, neil young, outtakes
---