Neil Young's "Twisted Road" Tour is Coming!!!
UPDATES:
Neil Young's "Twisted Road" Concert Tour Dates Schedule Spring 2010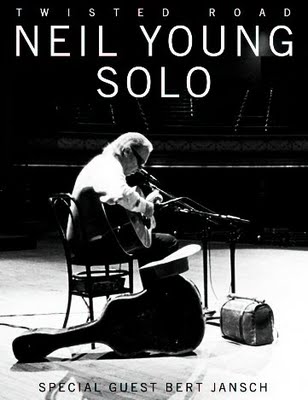 According to
Louisville (Kentucky) Courier-Journal
by Jeffrey Lee Pucket:
Neil Young's "Twisted Road" tour is coming to the Louisville Palace May 26 and tickets go on sale March 27 at 10 a.m. for $245, $125 and $85.
There is no word on what band this will be or whether this will be a solo tour only.
Judging by the seating capacity of Louisville Palace of 2,600, this tour may be similar to the Chrome Dreams/Trunk Show 2007 small theater tour.
Thanks Sean!
More details as they become available.
UPDATE:
Opening act: Bert Jansch
- May 26 - Louisville Palace Theatre, Louisville, KY (2,600 seats)
- May 29 - Atlanta's Fox Theatre
- May 30 - Spartanburg Memorial Auditorium, Spartanburg, SC (3,200 seats)
- June 1 - Nashville's Ryman Auditorium
- June 2 – Nashville, TN @ Ryman Auditorium
From
Concert Wire
.
So, it does look like
a southern man does need Neil Young around any how
now doesn't it?
Don't be denied.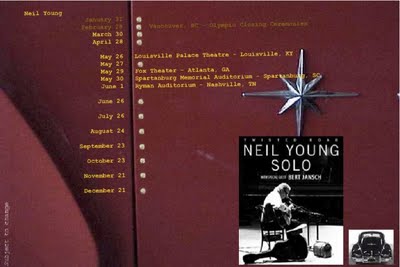 Neil Young Official Tour Page
---
Here's some more on tour opener the legendary Bert Jansch. Many folks are unfamiliar with Jansch.
Here's what Neil Young said about Jansch in an
interview Guitare & Claviers Magazine (French guitar magazine)
in April 1992:
Q : Of all the guitarists you know, who has made the biggest impression on you?

NEIL: Bert Jansch (Pentangle guitarist) is the best acoustic guitarist ; he's my favourite anyway. For electric guitar, I'd say Jimi Hendrix.



But as for acoustic guitar, Bert Jansch is on the same level as Jimi.

That first record of his is epic. It came from England, and I was especially taken by The Needle of Death, such a beautiful and angry song. That guy was so good... And years later, on On the Beach, I wrote the melody of Ambulance Blues by styling the guitar part completely on Needle of Death. I wasn't even aware of it, and someone else drew my attention to it. I'd met him in England in the early 70s, with Pentangle, but I this huge limousine and all that shit and they had a strange attitude with me, considering me as one of those bonehead superstars.
An excellent overview on Bert Jansch on YouTube:
The first part of Acoustic Routes, the Bert Jansch documentary from 1992. Sorry about the poor video quality: the video has been ripped straight from VHS.
The first part features Billy Connolly, Hamish Imlach, Archie Fisher and Anne Briggs. Bert talks about his first album, his early influences, Anne Briggs, Jimmy Page et cetera.
Songs:
Bert Jansch - Strolling Down the Highway
Anne Briggs - Go Your Way
Anne Briggs - Blackwater Side
Hamish Imlach & Archie Fisher - Solid Gone
---
"Ambulance Blues" - Folk legend Bert Jansch and Neil Young. Live at Bridge School Benefit 2006
---
"Keep on bloggin'
`Til the power goes out
The batteries dead
***TWISTED ROAD*** and shout"
UPDATES:
Neil Young's "Twisted Road" Concert Tour Dates Schedule Spring 2010
---