20 Years Ago The Wall came Down and People on the Street Rocked in the Free World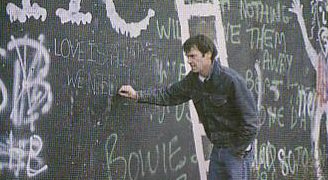 Before the Fall:
Neil Young writes "Love Is All We Need" on the Berlin Wall in 1982
On November 9, 1989, the Berlin Wall fell and Neil Young's song lyrics "Keep on Rockin' In The Free World"
could be heard over newscasts
of the historic occasion. The song has since been established as a beacon of hope for repressed people throughout the world and a soundtrack for freedom - in it's every manifestation.
In September, we wrote about the song's
20th Anniversary of the legendary Saturday Night Live Performance
of "Rockin' In The Free World".
Neil Young's song "Rockin' In The Free World" from the album
Freedom
is one of his most popular, important and prophetic songs.
The song has become an iconic anthem and it's status continues to rise as more and more artists cover the song. Young's lyrics are considered to be an indictment of the politics of the 1980's. In today's post-9/11 world, the lyrics seem prophetic and even more meaningful than when originally written on the eve of the '90's.
In 2004, Rolling Stone magazine selected "Rockin' in the Free World" as one of the
500 greatest songs of all times
.
"Rockin' In The Free World" was first performed live in concert on February 21, 1989 at the Paramount Theater, Seattle, WA with Neil Young's band The Restless (
review of concert
). Since then, the song has been performed 513 times through the latest tour's conclusion on 2009-06-27, Hyde Park, London, England according to
Sugar Mountain
page.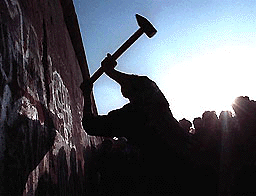 More on Neil Young's song and analysis of
Rockin' In The Free World
lyrics.
---