Remembering Ben Keith: 1937 - 2010
Ben "Long-grain" Keith: 1937 - 2010
Ben Keith, Neil Young's long time band mate and dear friend, would have celebrated his 75th birthday this week.
Ben Keith (March 6, 1937 – July 26, 2010), was a multi-talented musician who Neil Young first met in Nashville in February 1971 when Neil was recording the multi-platinum LP Harvest who passed away unexpectedly in 2010.
Bridge Benefit Concert 2008
Photo by Craig Abaya
Upon learning of Ben's passing, Neil Young
issued the following statement
:
On the full moon, the Thunder moon, the world lost one of the greatest musicians of all time. Ben was 73 years old the night he died on Broken Arrow Ranch in California, his happy home for the last years of his life. Ben played with Patsy Cline, Faron Young, Hawkshaw Hawkins, Ian Tyson and many other music greats. A great American, the quiet giant, he moved gently through the world, with kindness and grace.

My wife Pegi was lucky to share his last performance a few weeks back in San Francisco, where Ben was playing in her band, supporting her and lending his spirit to her every word as she sang her songs for us.

Of course, in Nashville Ben Keith is legendary, one of the last of the original country greats, the man behind the song. No one will ever fill his shoes. He has countless friends and admirers. They all miss him as much as I do. I will miss him every time I look to my side, remembering him, my brother and fellow traveler.

Thankfully, Ben's masterful playing can be seen and heard in two Johnathon Demme pictures: 'Heart of Gold' and 'Trunk Show,' as well as countless great recordings over the last 50 years. We are so fortunate to have these as memories and lasting documents of his greatness and grace. He started out on a homemade steel guitar he fashioned himself from a piece of wood and left over parts. He loved his music and his life and cherished his many friends and soul mates.

He leaves behind his wonderful daughter Heidi, and his grandchildren who he loved so much, DJ, Rachel, James, Meredith, Aubrey, Fletcher and Caroline.

May he rest in Peace.

Neil Young
Legend has it that Neil asked bassist Tim Drummond if he knew any pedal-steel players in town. Tim contacted Ben, who lived in town and off he went to the studio: "I didn't know who anyone was, so I asked, who's that guy over there?" and was told "that's Neil Young".
"They were already recording [Harvest] at the time," Keith said in the 2005 concert movie Heart of Gold. "I set up my steel and kind of snuck in there and started playing and we did five songs before we ever stopped and introduced ourselves." Neil Young often referred to Ben Keith as "Brother Ben".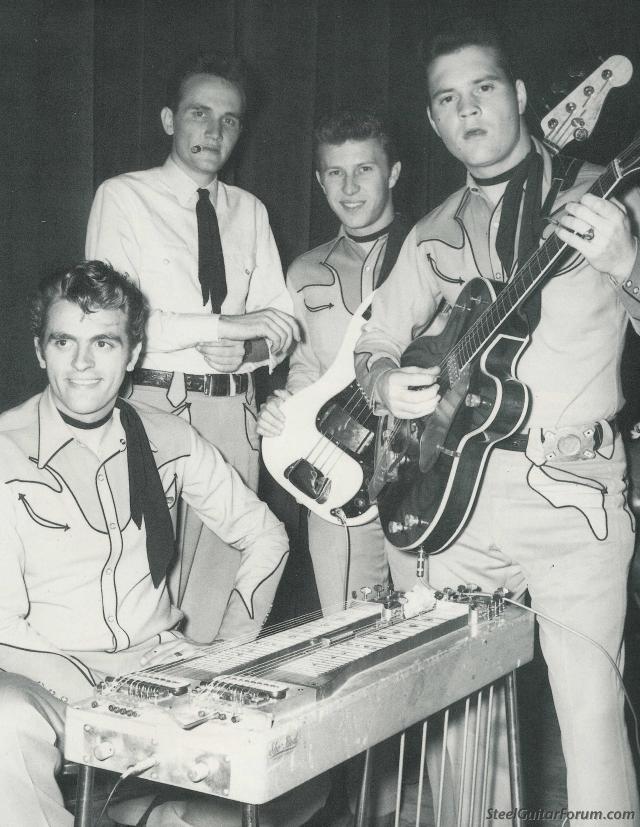 Ben Keith with Faron Young and band
(via Rock Town Hall)
Keith's career dated back to playing on Patsy Cline's "I Fall to Pieces."
Rick Rosas & Ben Keith @ Cutting Room, NYC, NY 07-19-2007
Photo by Johnny Marr

Photo gallery by Tony Stack on Rock Steady Studios of Neil Young in Denver, CO on 4/27/09
Keith is also known as the producer of Jewel's debut album
Pieces of You
, which sold more than ten million units. From
Jewel remembers producer Ben Keith | tennessean.com | The Tennessean
:
For Jewel, though, Keith will always be the man who helmed her breakthrough, Pieces Of You, an album that sold more than 10 million copies. "I was signed to Atlantic Records, completely ignorant about the music business," Jewel said. "I met with maybe 50 different producers, and a lot of them wanted to change what I did. Ben was the first who made me feel comfortable with who and what I was.

He had the mentality of, 'Let the musician be the musician,' and

he believed in me when I didn't know how to believe in myself."

"He was a champion of the song and the songwriter, no matter what," she said. "He was a defender, and he helped give me confidence. He wanted to pay homage to the song, with no over-singing and no over-playing. He produced that album, and so we both hit the frickin' goldmine. We were dark horses that beat the odds."
Ben Keith as "Grandpa" in Greendale as filmed by Neil Young - 2002
(Eric Johnson as "Jed", center)
Also, see Tribute to Ben Keith | NYA.
Grant Boatright and Neil with photo of Ben Keith
photo: Zeke Young

More on Ben Keith: 1937 - 2010.
---
Labels: ben keith, neil young
---