Neil Young + Promise of the Real: 'The Monsanto Years' Reviews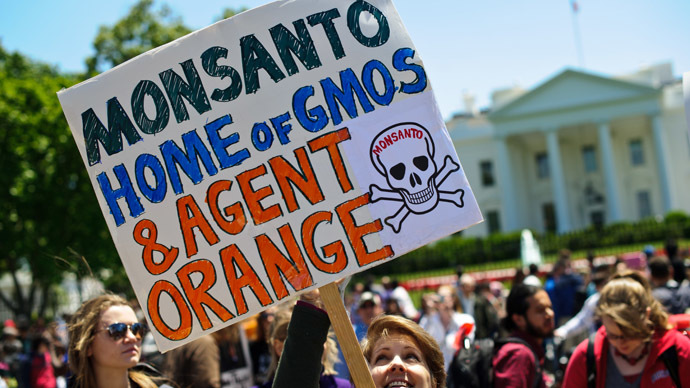 Reviews for Neil Young + Promise of the Real's new album 'The Monsanto Years' continue to roll in here at TW and elsewhere.
From
Neil Young socks it to corporate America in 'Monsanto Years' | seattletimes.com
by Paul de Barros:
Go get'em, Neil! This two-fisted, anti-corporate, anti-GMO protest album strikes with a blunt instrument — lyrically and musically — but, by God, it gets the job done, and occasionally rises to the anthemic grandeur and wistful intimacy we are accustomed to from Young. One of its charms is that it names names — not just the titular Monsanto (who brought you Roundup and genetically engineered seeds), but Safeway, Wal-Mart, Chevron, Starbucks and the Citizens United Supreme Court decision.

And while all the talk of "greed and plunder" has a wish-it-were-still-the-60s feel, the thunderous wall-of-guitar riffs from the Los Angeles band Promise of the Real (featuring Willie Nelson's children Lukas and Micah) — absolutely in tune with Young's deliberate, halting cadences — catapult these earnest plaints squarely into the present.

Beyond mountainous rock, the twangy, sarcastic "People Want to Hear" could be a record executive speaking — "People wanna hear about love/ Don't say that Citizens United has killed democracy." — and "Big Box" comes back to a balladic refrain, "Too big to fail, too rich for jail." The harmonica blues, "Workin' Man" reaches out with the nervous ramble of Bob Dylan's "Bringin' It All Back Home."

Young the poetic crooner surfaces in the beautiful "Wolf Moon," a pastoral apology to our planet's swollen satellite as it peers down on the mess we've made. OK, so "Rock Star Bucks" gets it wrong — the Seattle coffee giant didn't really join the suit against the state of Vermont over GMO labeling — and the album kind of falls apart in the last three (of nine) songs. This is a brave and timely recording.
From
Neil Young's in protest mode on 'The Monsanto Years' | latimes.com
by Randall Roberts:
This is Citizen Neil delivering the news while bemoaning a population too disinterested to notice. As he offers on "People Want to Hear About Love," his voice quivering with either age, rage or both. "Don't talk about the Chevron millions/ Going to pipeline politicians/People want to hear about love," he sings.

But if the stridency of Young's beliefs were to always have resulted in success, we'd all be listening to hi-fi music on Pono players. "The Monsanto Years," while noble in its intentions and hardened in its delivery, isn't Young at his best. Despite a fresh band offering dense rock, Young's a lazy lyricist throughout, as if he scribbled rhyming couplets in a rush, minus an editor or a rewrite.

Gray areas are glossed over or ignored. When, in "Big Box," Young bemoans the death of small-town Main Street, the blame inevitably lies "down at the big-box store/People lined up for more" and not the capitalistic system that birthed it. When he indicts Monsanto, he does so as if reading from a list of talking points instead of exploring the complex equations that define technological progress. Yes, these are just songs, but they often read more like blind tirades than thoughtful op-eds.

Granted, Young's always used his microphone as a bully pulpit. "This Note's for You" is a stance against licensing music to advertise beverages. "Who's Gonna Stand Up" wonders about the fate of the planet. "Motor City" lets loose on Japanese cars. Young's usually on point and occasionally way ahead of the curve. On the 2006 song "Let's Impeach the President," he reported surveillance news long before Edward Snowden delivered evidence: "Let's impeach the president for spying/ On citizens inside their own homes/ Breaking every law in the country/ By tapping our computers and telephones."

That same sense of purpose is all over "The Monsanto Years," and even if the ideas are painted in broad strokes, Promise of the Real isn't messing around. Loose with dueling guitars, big distortion and pounding drums, the band turns "Rules of Change" into a grungy track best described as Neil Young inspired.
From
In Praise of the Unhinged Protest Song | theatlantic.com
by Spencer Kornhaber:
If preaching to the converted is its sole ambition, The Monsanto Years might just succeed, giving marchers against genetically modified foods and agribusiness something to play on the loudspeakers. Backed by his band, The Promise of the Real, the album's packed with crisp, crunchy classic rock, and the 69-year-old makes smart use of the sorrowful twinge in his voice. It didn't help me figure out whether Monsanto is actually sending humanity to extinction or if its bad rap from Greenpeace is overblown, but it did teach me just how fun its name is to say. Young sings the syllables a bit like the witch's guards in Wizard of Oz might: Mahn sannn, tohhh…

For the most part though, to anyone who's not already in the market for an audio bumper sticker against GMOs, The Monsanto Years will inspire only groans. Young sounds like he's playing liberal-pundit bingo, serving up phrases like "too big to fail" without attempting to make them sound anything other than hackneyed. See if you want to sing along to this:

When the people of Vermont wanted to label food with GMOs
So that they could find out what was in what the farmer grows
Monsanto and Starbucks through the Grocery Manufacturers Alliance
They sued the state of Vermont to overturn the people's will

Are those lyrics or a blog post? The laziness of the writing on verses like this is enough to make you hear the wounded idealism of "People Want to Hear About Love" as almost sinister. Young makes it sound like political subject matter alienates listeners from songs, but on The Monsanto Years the greater danger seems to be that political subject matter alienates songwriters from their talents.
From
youareaghost
by Ghost Writer:
The Monsanto Years is a concept album, a sonic attack against Monsanto experiments with crops and the perceived damage to agricultural and food industry in general, ultimately affecting the life of human beings, a complex subject that Young and Promise of the Real tackle with courage as Young shows that he is not afraid of fighting against the giants, as he recently raised his voice against the awful despot Donald Trump, for not authorized use of his music, on the other side conceding the use of Rocking In A Free World to liberal Senator Bernie Sanders.

Raw sounding might be a good description of this record as Neil and company go for a live and undercooked and unpolished sound, the result is in tune with conceptual matter as Young is fighting precisely against progress for the sake of profit, he is fighting bravely for his beliefs and for mother earth a constant inspiration for him, leaving us with an almost raw matter of a record with no Gordon Ramsey on sight to bark it being undercooked.

New Day For Love is a massive sounding tune with Young's voice and guitar on top of a powerful mess, and big thunderous drumming to serve as rock bottom, while Wolf Moon goes for an almost acoustical folk sound, a beautiful trashy song with Neil's soulful voice vibrating in the middle of the cosmic night, this before getting struck again by pure lightning in the hard hitting People Want To Hear About Love, where Young stars to spew venom against the big hypocrite corporations lobbying in the Congress in order to preserve their interest above those of the people, Young sounds hell bent for fraternal love and justice, he knows is a David vs. Goliath style of fight, but he is sure about his strengths and plays garage rock to the best.

Neil's guitar gets furious on the hard rocking Big Box, "Too big to fail, too rich for jail", sings Neil angrier than ever, in a song that sounds so desperate, so furious and almost doomed, as Young fights with the best he got, and his guitar spitting true tongues of fire, this is the Neil we really love to hear, risking it all although he knows it could all fall down at any moment, with jagged riffs all over the place like in Workin Man, another show off of Neil's garage roots at its best.

Rules of Change has a deeper sound, with drone sounding guitars and Young's voice verging on the fragile, guitars being a big anchor to a tune that sounds like it's about to fall apart and ends in a little confusing way, but hey! At least in this record it's all about concept, and in the title track Young and company bring us a middle pace tune with passionate guitars and Young art shining like the sun, with words to crave holes in the brain and a direct and courageous attack against the biotech giant, like none I have heard before.

The Monsanto Years is a powerful record full of bitterness and fury, it is not a happy shiny type of record as doomy sound and lyrics are all over the place is a heartbreaking record in a sort of way, not romantic at all, but I a desperate cry in favor of earth and humanity, and nobody does it better than Young, and this time he is not alone, he is standing for the planet with Buffy, Nelson´s sons and Pope Francis.
More
Neil Young + Promise of the Real: 'The Monsanto Years' Reviews
.
---
Labels: monsanto years, neil young
---